Want to see Design & Thinking the documentary? Or more importantly, need someone to see it? Take the initiative and host a screening in your area!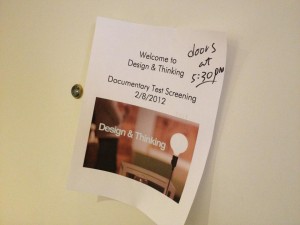 Currently, you can see Design & Thinking Screening Schedules HERE.
===== HOST A SCREENING =====
We are now scheduling community screenings all the way to end of the year!
Please email us with your:
a. event type: 1. Organizational/Event screening OR 2. Education institute screening
b. screening date (Lead time of 3 weeks is advised before your desired screening date.)
c. event scope (estimate number of participants),
Email to designthinking.movie@gmail.com, with your intended screening date or month in your Subject.
At the same time, you can download our screening license agreement and review to see if it makes sense to you. The total running time is 74:11. The screening fee is based upon event type and scope.
This is only open to community screenings, not for theatrical shows, Thank you.
Search this blog

NEW Official Trailer 2012

This is a documentary exploring design thinking, "a term that arose to distinguish what others think of as design, usually the surface, to the thinking behind."

Design & Thinking World Premier

Design & Thinking had a successful World Premiere at the

Newport Beach Film Festival

on 4/28, Saturday.

Stalk us on Facebook

We are Backed by Kickstarter!

Over 300 Backers

supported us to make this movie real. Would you like to put in your 2 cents? We want to

work with you

!