The ratio of number of existing documentaries and their deserving influence is probably way higher than for any other types of films. So many people are expressing their ideas through docs but usually there just isn't enough resources to spread them to the audience who are interested.
Despite that, there are more and more films depicting our current, realistic world, whether it's documentary or narrative film.
Here are 4 of those films we came across recently, and thought quite worth sharing with you all:
The PhD Movie (2011)
Movie based on PhD Comics.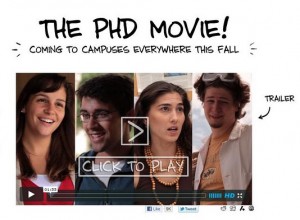 They have swept over universities all over the world! And they make it relatively easy to license and screen their movie. When we saw this it doesn't just speak PhD to us. We are from a culture that knows this problem too well.

The Bridge (2006)
This is an elegant documentary, respectfully telling the story of San Francisco's Golden Gate Bridge, and how many people visit it to…… end their lives. I feel the power of documentaries here, which takes us to a situation where, if otherwise, we'd never had been able to develop empathy for a certain part of the world.
Director Eric Steel went around his way to apply for permit to film the bridge. When the film was produced, the park officials weren't happy that beautiful videos of the park turned out to be a film about suicide. Read the story here at SF Chronicle.
You can already start watching the full film here, from Youtube.

I AM the documentary (2011)
Filmmaker Tom Shadyac gave up his multi-million dollar home and possessions after an accident, took on a new way of life and produced I AM. I have not watched it, and although the trailer could not convince me of this whole spiritual uplift, I definitely think that there couldn't be too many responds to the troubles of the world, personal or universal. "Asking significant minds what's wrong with our world, and what can we do about it," that's also included in our approach, but the confusions we face demands more voice than that.

Too Big To Fail (2011)
An HBO production based on the book by Andrew Ross Sorkin. Maybe this is what we all need and unconsciously looking for: This growing, constant haunt for truth behind the scenes, the scare and shock it brings to people both in and out of it.

Are we not in a good age of films?
Search this blog

NEW Official Trailer 2012

This is a documentary exploring design thinking, "a term that arose to distinguish what others think of as design, usually the surface, to the thinking behind."

Design & Thinking World Premier

Design & Thinking had a successful World Premiere at the

Newport Beach Film Festival

on 4/28, Saturday.

Stalk us on Facebook

We are Backed by Kickstarter!

Over 300 Backers

supported us to make this movie real. Would you like to put in your 2 cents? We want to

work with you

!