Currently viewing the category: "Behind the Scene"
A lot has happened in the past few weeks… Our movie is ALMOST DONE!! In February Mu-Ming & Iris presented the almost final cut, we watched it 2 times internally, and then had 2 informal test screenings under tight time constraint. The first was a friends & family screening, the second was with… guess who… [...]
Continue Reading

→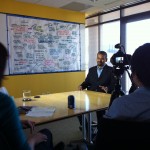 From where I came from in 2007,  the best companies to go into were  McKinsey, Bain & Co. and BCG. Those places seems to be the most flexible and influential environments for the smartest people to solve the hardest problems. As I made my way to the design world, and learned about design thinking, it [...]
Continue Reading

→
The day came that we really got to meet Mr. Tim Brown! He cheerfully and thoughtfully shared with us what he thought of as "design thinking." "'Design thinking' is design applied to anything." "Design thinking can contribute to all kind of problems — not solve." We felt like, in his own words, design thinking is [...]
Continue Reading

→
Search this blog

NEW Official Trailer 2012

This is a documentary exploring design thinking, "a term that arose to distinguish what others think of as design, usually the surface, to the thinking behind."

Design & Thinking World Premier

Design & Thinking had a successful World Premiere at the

Newport Beach Film Festival

on 4/28, Saturday.

Stalk us on Facebook

We are Backed by Kickstarter!

Over 300 Backers

supported us to make this movie real. Would you like to put in your 2 cents? We want to

work with you

!