What we are up to now
Thank you all for a fantastic year! We enjoy "meeting" people all over the world because of D&T. There has been about 150 screenings worldwide.
Muming and Iris officially founded Muris in Taipei. They are now closely involved with the entrepreneur and design communities, doing campus tour, and still making short films.
… was success! People started coming in 10 minutes before the showing, and we were excited there were much more people than we expected! (This is more than some other great films I went to at the festival! Oh!)
We did try to promote this screening in the LA area but had no way to track it. So we didn't expect many audience and we are really happy.
After screening –
Very unfortunately, Mu-Ming and Iris, Director and Editor/Creative Director weren't able to fly to U.S., so only Yang and Melissa was present for Q&A as producers.
When an artist and a businessman both came to give heartfelt praise and deep acknowledgement of the film, it is really touching: We are reaching people who want it. "The world is changing in this direction and I think your film will accelerate that." "I want to send this to heads of my companies." These are some expression I remembered … I was a bit dizzy! I even remember someone say "Very entertaining!"
Our screening is modest compared to many other films, and a little sad that not everyone stayed for Q&A, but as Susan an artist audience put it, it is a little seed that will grow and grow!
We left our postcards in the cinema hallways and so delighted to see most of them gone after the screening! Ha!
With Leslie Feibleman of Newport Beach Film Festival, programmer of Art Architecture+Design film series. She is awesome, funny and kind!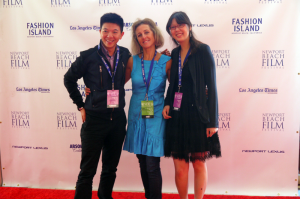 If you missed it, there is a chance it will show in OC again in the summer, we'll see!
OK, being interested in D&T probably means you are regular students of navigating the unknown. For those who don't know what film festival is supposed to be like, especially as a filmmaker here's from a totally newbie. This is what I saw when arriving the Opening Night Premiere of movie "Jewtopia":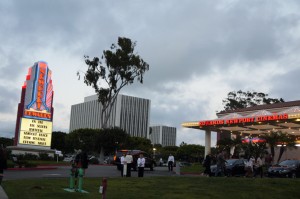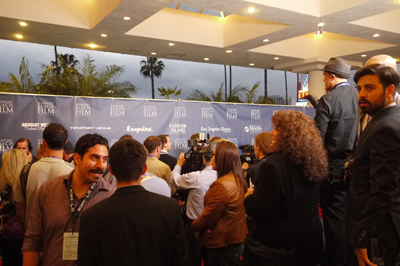 Typical as you see on TV and events right?
And lost like a grain of send because everyone is a filmmaker.
But seconds later I was grabbed into that crowd.
Search this blog

NEW Official Trailer 2012

This is a documentary exploring design thinking, "a term that arose to distinguish what others think of as design, usually the surface, to the thinking behind."

Design & Thinking World Premier

Design & Thinking had a successful World Premiere at the

Newport Beach Film Festival

on 4/28, Saturday.

Stalk us on Facebook

We are Backed by Kickstarter!

Over 300 Backers

supported us to make this movie real. Would you like to put in your 2 cents? We want to

work with you

!