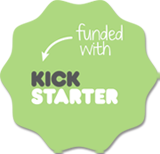 Thanks to all other Kickstarter Backers! (335 backers)
(By order of backing!)

Mete Gurgun, Kao-Chun Rao, CJ Maupin, Hugh Reynolds, Mikito Kawasaki, Fazal Khan, Martin Jordan, Marcel Zwiers, Marco van Hout, Marc Stickdorn, Z. Wen, J. Lin, Tsai Lu Liu, Greg Borenstein, Alan Tupper, Vernon, EFFALO, Saul Taylor, Che-Hung Lu, Harvey Floyd, slhsiao, Stephen DelRose, Jean Cousin, Pseric, Light Lin, Adam Gahan, Isaac Ortega-Alvarado, Max Underwood, Tearjerker, lizardkisses, Carlton Madden, Ted James Butler, yunling lee, Kristian Gallagher, Mitchell Dong, Alex Knight, Arnold Freidling, Kevin Kimmett, John F Schneider, Alexander Carlson, manel, Catherine Mulbrandon, Yun-Che Wu, Jeff Chen, James, vicsu, Chris Thomas, Ian Bach, Merve Karasu, Sarah Read, Siddharth Vanchinathan, Mswaine, Hong Qu, Robert Saco, Jessica Shieh, Yu-Hsiu Li, Morten Nottelmann, Niek de Bruijn, GuyLux Valentine, Gwen Armbruster, scavanagh, Ruud Tuithof, Rikke B E Knutzen, Luis Vega, Asker Huang, Paul Hatch, Andy Herman, Chris R Trifilio, Paula Thornton, Albert Wang, igor, Sara Velez, Ross McKegney, Ronald Vanbuuren, Makoto Miyagawa, Freddy, Peter, Andre Chang, Tim Hwang, Charles Shields, Daniel Markwig, Quinn Popcorn, Matt Soar, Austina De Bonte, Barry Bayus, Cássia Klöpsch, Jennifer Gergen, Donny Gallagher, Robert Medrala, Louis Hsiao, Sophie Chiang, junehao, Michael McGregor, Lil Tydings, Haim, Ander Lizaso, Janine Michel, David Dobrowski, Nicholas, McMillan, Lorenzo Araneo, Mark Graham Dunn, Ben Davies, Gordon L'Estrange, Paved Life, Per Juul Poulsen, Li Mei Tan, Benjamin Kirk, Jesper Bram, Li La, Derek Bradley, Adam Main, Lee Dale, John Morse, Gareth Kay, Belle, megan bostic, Vanessa, manuoberle, Guy Leal, JessReneGertsen, Peter Zapf, Rita Patel, Rafael Atijas, Bob Hart, Jared, Brandon Comstock Walsh, Chris Lim, steven, Xavier Rubicon,Vuepoint Creative, Kevin Old, Michael Taylor, Josh Long, Rolando, Erik mit k, Sean Nelson, Marcus Heed, Barton Smith, Dan Gilbert, Luann Vodder, Abraham Wallin, Mihai Hogea, danny peck, Gong Szeto, Dan Abrams, Zaana, Israel RN, MacKenzie Roepke, Tuyen Vo, Alex Bennett, Bryan Maniotakis, Cristian Murillo, Adrian Jauk, Nuno, Jeffrey Sechrest, Justin, Hanna, Daniel, marc, David Wiesollek, Gregory, yunan0102, staen, John Tai, katie shelly, Hsiao-Yun Chu, Nora Hildebrandt, Rachel Mercer, Kathryn Hautanen, brockett horne, Philip Vroom, Peter Bertels, Kate Corman, Joe Andosca, Raymond Bessemer, Cecilia Garcia, Gabriel Kauffmann Schüler, Mark Ehrhardt, Tenecia Brown, Keven Beaulac, Mitchell, Matt, Willhemina Wahlin, Terry Ko, Wonravee Chavalit, Fabio Pettinati, Matthias Ludwig, Marcus, Robert Dyson, Tyler Cushing, Heather Crank, I-Han Chen, Sophia Sunwoo, Chao-chun Wang, Rafal, Pace Davis, Mannar Wong, Jeannette Hanna, Anne-Marie Armstrong, Chris Hoke, Wendy Quesinberry, Steve Hartman (Edwardsville, IL), Miguel Gaydosh, Lauren, Chris Stolte, Jorge, Marisol Eggleton, Mycal Hoffman, Jacqueline Wechsler, joe768, shun chu, Harrison Tan, lisa kimball, Elli, Martin Langbråten, Sebastian Ziebell, Birna van Riemsdijk, David Hisaya Asari, emmanuel, David Kim, Joern Mohr, Howard Suissa, charlie taylor, Guan Wang, Jennifer Hogan, Roy Chen, Kristian Bjørnhaug, Stephanie Rowe, Derrick Dodson, Derek Bennion, Cindy Ho, Fu-ren Lin, ayelet, David Mc Andrew, Tina Thuermer, Long Ciao, John Roepke, Sean Tsang, Thomas Hill, Jacqueline Skelton, Arnor Bogason, Karine Lafrance, Bih-Jane Day, Guilherme Howat, Anne C. Kerns, JerryHsu, Nuntavit, Dan Leatherman, Catherine, Zo-ii, Marcel Kampman, Elmer Zinkhann, JCLiu, Lisa, J. Curtis, Micaela Wernberg Andersson, Michael N, Raffaello Rosselli Baslini, Neon, facricio klug, Charles Adler, Eric Klotz, Fred Leichter, Julian Reisenberger, Andrew Brackin, Randall Smith, Heidi, Krista Van Guilder, Adewale Oshineye, Hermit Yang, Shibo, Miguel Pacheco Sáenz, Tania Ryalls, Jeff Berg, Eddie Adolf, James Lin, Robert Mais, Eleni Thanou, Hidetaka Imamura, Anor Ju, Tommy Shek, Yuting Liao, Per Sandström, thomas lehman, Bryant Littrean, Joshua Lasky, Shao-Tzu Lee, Josh, chin ko, Singingjenq, William Widjaja, Ta Lin, Ryan Hunt, Andreas Cem Vogt, Beatriz Gutierrez, Alberto Moro, Gary Lee Hansen, Angela Melick, Jojo Soriano, Tom Petty, Sebastian Song, John Berry, jimmycoolcat, Qawizy, Ted Crawford, Yi Ying Lee, Nick Hayes, Stephen Burton, Scott Chang, Orion Black, Gabriela De Bernardi, Dean Karov, Brett Newton, Shaun Kaminoff, Alex Chang, Peter Chen, Lidor Brosh, David Lee, Michele, Linn Amalie Pettersen, aristotelis skamagkis, Andrew Humphries, Boris Mindzak, Kenneth Cochanco Go, Martijn S., Priyanka Kodikal, Sean Sutton, Steve Portigal, Jack Vaughan, Ajay Karat, Eivind Arnstein Johansen, Digital Film Farm, gustavo fontana, and Jennie Lin !